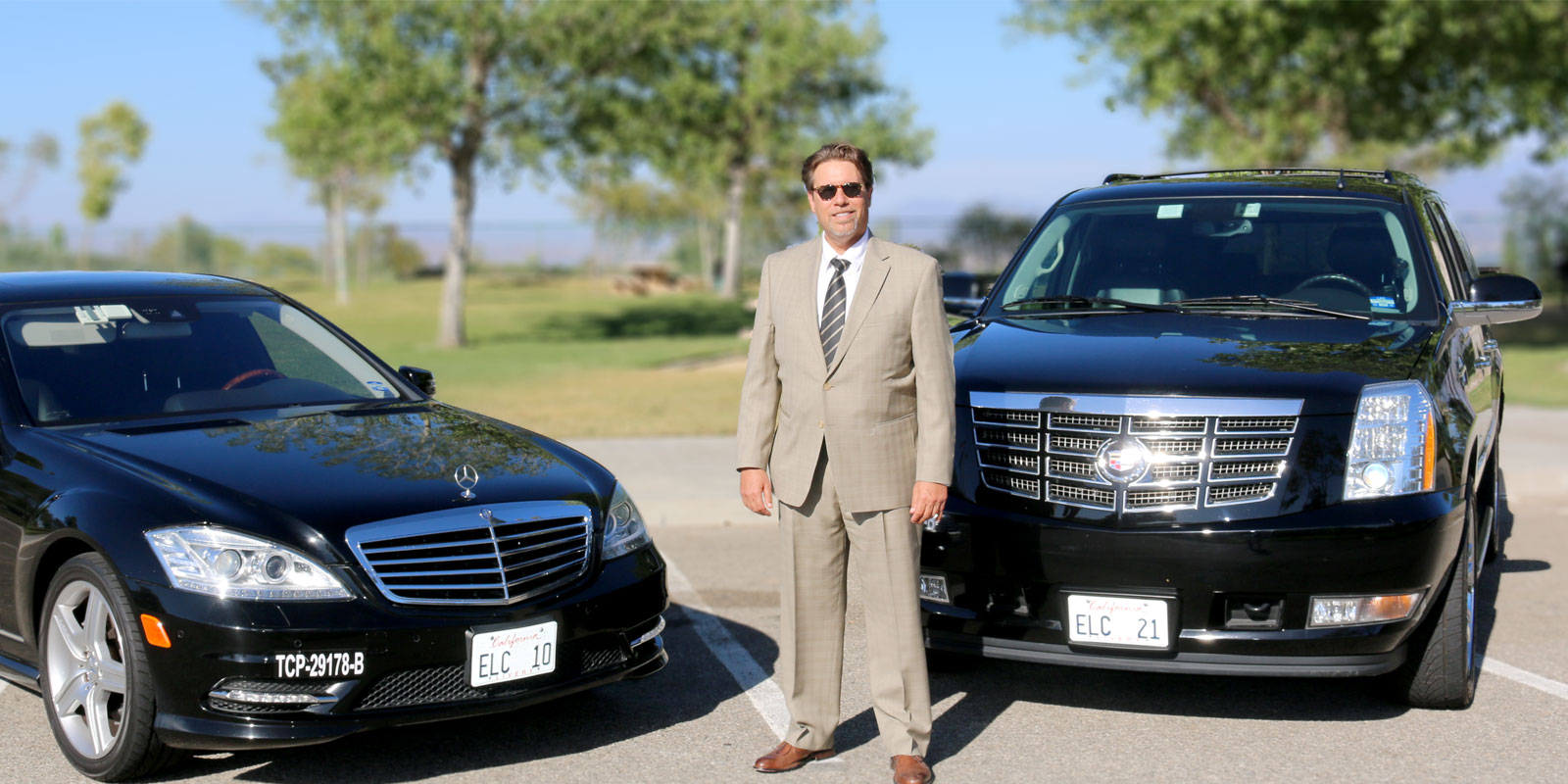 Evan Landy – CEO and Founder, ELC Inc.
ELC Limousine Services presents an unparalleled selection of exquisite vehicles, catering to a range of needs, from luxurious chauffeured transportation to seamless airport shuttles or those unforgettable special events. While we take pride in our popular choices listed below, we firmly believe in granting our esteemed clients complete freedom of choice and flexibility. Should you desire a different vehicle type that suits your preference or requirements, we encourage you to inquire without hesitation. Our commitment to your satisfaction means we can typically accommodate your wishes and those of your esteemed guests. Should you have a sizable group to transport, rest assured, we specialize in arranging multiple vehicles. To ensure everyone travels in comfort and tranquility, we are delighted to offer multiple Mercedes Sprinter limousines. Your guests will relish the utmost opulence while journeying together.

Cadillac Escalade ESV Sport
Renowned as the epitome of excellence among sports utility vehicles, the Cadillac Escalade ESV reigns supreme, standing as a testament to unrivaled quality. This opulent luxury SUV offers unmatched comfort, accommodating up to six passengers with effortless elegance. From its impeccable design to meticulous craftsmanship and attention to detail, every aspect of the Escalade ESV exudes luxury. Prepare to indulge in the ultimate expression of refined opulence, as you and your esteemed guests embark on a journey unlike any other. Welcome to the pinnacle of Cadillac's Escalade lineup, where luxury knows no bounds.

Mercedes-Benz S-Class
The Mercedes-Benz S-Class Sedan stands as a timeless symbol of distinction, captivating attention not only with its iconic design but also with its commanding presence and indulgent amenities. Combining strength, power, and uncompromising luxury, this remarkable vehicle redefines the standards of automotive excellence. With the capacity to accommodate up to three passengers, the Mercedes-Benz S-Class Sedan exemplifies the epitome of opulence, seamlessly blending unrivaled style, unmatched comfort, and cutting-edge technology. Prepare to embark on a journey where every detail is meticulously crafted to elevate your experience to unparalleled heights of sophistication and refinement.

Mercedes-Benz Sprinter Limousine
The Mercedes Sprinter presents an ideal solution for large group reservations, catering to parties of up to 11 passengers along with their accompanying luggage. Whether you're planning a celebratory gathering, a corporate event, or any occasion that calls for the seamless transportation of a sizable group, the Mercedes Sprinter rises to the occasion with unmatched spaciousness and versatility. Embrace the convenience and comfort of traveling together as a cohesive unit, all while relishing the reliable luxury that the Mercedes brand is renowned for. Experience the epitome of group transportation with the Mercedes Sprinter, where your entire entourage can embark on a journey with ample room to unwind and enjoy the ride.

Luxury Sedans
When nothing short of absolute excellence will meet your expectations, ELC Limousine Services is proud to offer exceptional vehicles such as the Bentley Flying Spur. Crafted with meticulous precision, these extraordinary luxury sedans are tailored to exceed the desires of discerning individuals who crave unbridled opulence and an unparalleled motoring experience. Immerse yourself in an ambiance of serene comfort within an environment of pure indulgence, all while relishing the phenomenal performance that accompanies this masterpiece of automotive engineering. Our dedicated team will spare no effort to transform your dream of chauffeured luxury into a remarkable reality. Choose ELC Limousine Services, and embrace the epitome of automotive splendor.
Multiple Vehicles and Special Requests
We can also provide multiple vehicles for larger groups or for special requests. Please contact us with details of your needs or preferences.